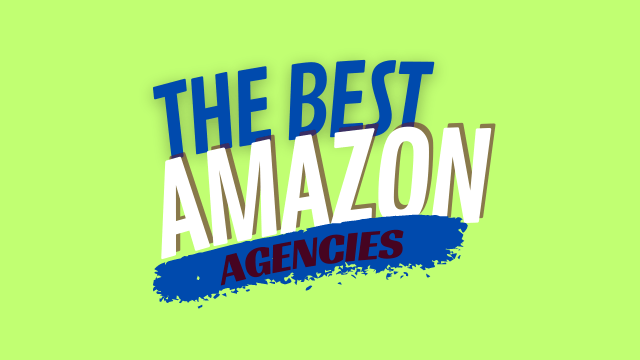 Imagine you had captivating product listings that attracted shoppers, SEO strategies optimized to place you at the top of search results, and expert guidance through Amazon's intricate advertising landscape to drive more sales and reduce your ACoS. With the right agency by your side, this is not just a distant fantasy—it's an achievable reality.
But here's the truth: not all agencies are that great. Many make grand promises without the experience or resources to back them up. We've heard plenty of sad tales from disappointed sellers, so we understand the frustration and disappointment that arises from placing your trust in the wrong hands. This is why we made this article, to save you from risky guesswork.
In this blog post, you will find a list of 40 Amazon marketing agencies you can trust. We made sure we went the extra mile to include sufficient details about each agency to help you identify the one that meets your needs and possesses the expertise and resources necessary to reach your goals.
So, are you ready to take your Amazon business to the next level?
Let's get started!
1. AiHello
Year founded: 2018Headquarters: Toronto, Ontario, CanadaNumber of employees: 11-50
AiHello combines cutting-edge AI technology with the human expertise of their seasoned specialists. Their proprietary AI-powered PPC software has automated over 1.7 million campaigns, saving sellers valuable time and resources.  Beyond PPC automation, AiHello's team of experts provides a range of services including product listing optimization, SEO, Amazon advertising management, branding and design, market research, competitor analysis, and account management and strategy. They are dedicated to helping Amazon sellers and vendors grow their revenues, reduce the time spent on ads management, and decrease ad costs. 
Details
Dedicated Account Manager In addition to cutting-edge automation, AiHello offers sellers the expertise of PPC specialists who have managed 8 and 9-figure accounts to help them with strategy and execution. These professionals provide strategic guidance on PPC, campaign setup, advertising tactics, and overall growth strategies. With personalized support, sellers can navigate the complexities of Amazon advertising with confidence, benefiting from the agency's in-depth knowledge and experience.
Get All Your Agency Needs in One Place AiHello offers a range of services, including product listing optimization, SEO, Amazon advertising management, branding and design, market research, competitor analysis, and account management. This allows sellers to achieve their business objectives and maximize their success on Amazon without the headache and cost of managing and paying multiple agencies.
Effective Bid Adjustments AiHello's experienced team utilizes sophisticated bidding algorithms to strategically allocate their clients' ad spend. By focusing on high-performing keywords and minimizing spend on underperforming ones, they effectively lower ACoS and drive more sales, resulting in a significant 20% drop in average advertising costs.
Keyword Management AiHello employs an automated keyword management system to continuously optimize campaigns, keeping sales on an upward trajectory while maintaining an optimal Advertising Cost of Sales (ACoS). Their team identifies new relevant keywords, eliminates ineffective ones, and utilizes negative keywords to have better control over ad spend. This ensures that clients never miss valuable opportunities to drive high-quality traffic.
Achievements That Speak Volumes With a remarkable track record managing over $1.2 billion in annual revenue and boasting a 96% success rate, AiHello has established itself as an industry leader. Their clients have experienced significant transformations, such as AlphaSigma reducing their Advertising Cost of Sales (ACoS) from 30% to 19% within two months, leading to a substantial increase in PPC sales of over $250,000. AiHello is proud to empower sellers to reach their full potential on Amazon.
Certifications and Expertise AiHello is an Amazon Ads Advanced Partner, which demonstrates its strong partnerships and deep understanding of Amazon's advertising ecosystem. Their involvement with the Amazon Marketplace Developer Council also showcases their commitment to staying ahead of industry trends and driving innovation.  By choosing AiHello, sellers align themselves with a trusted agency that leverages the latest tools and strategies to optimize their Amazon marketing efforts.
Having 1 on 1 guidance from the team over at AiHello has been crucial for growing my sales past $2 million.
Michael Greene, Amazon Seller
Case Study
A cosmetics brand was struggling with an alarmingly high ACoS and despite their best efforts, they were unable to achieve profitability, forcing them to halt their advertising efforts for an extended period of time.
After many months of slow sales, they decided that they were In need of a breakthrough solution, which is how they found AiHello, a trusted Amazon marketing agency, and software company.
After partnering with AiHello for just 6 months, their monthly ad sales skyrocketed from a modest $2.5k to an astounding $200k. AiHello also reduced their ACoS to an amazing 20%, helping them make more money for each dollar they spend on advertising. 
See the details below.
The Power of AiHello's Approach
AiHello took on this challenge with a tailored strategy to address the brand's specific pain points. Here's what they did differently:
1. Campaign Creation and AutomationHarnessing the power of AiHello's cutting-edge technology, the team swiftly developed thousands of highly targeted campaigns. This automated approach allowed the cosmetics brand to expand its reach and capture the attention of potential customers on Amazon.
2. Automated Keyword Harvesting and BiddingUtilizing AiHello's advanced automation technology, precise keyword harvesting and accurate bid adjustments were implemented. By continuously optimizing the campaigns, the team was able to significantly reduce the ACoS, ensuring more efficient use of advertising spend.
3. Hybrid Approach (Software + PPC Specialist)To maximize the brand's potential, AiHello combined its sophisticated software with the expertise of its seasoned PPC specialists. This allowed them to conduct a thorough account audit and develop a customized strategy that could rapidly fuel the brand's growth.
Results
The efforts of AiHello and their unique approach yielded remarkable results for the cosmetics brand:1. $2.5k to $200,000 Monthly Ad SalesThe brand's monthly sales skyrocketed from $2.5k to an incredible $200,000 in just 6 months. This represented a remarkable turnaround from their initial struggles.
2. ACoS Reduction to 20%Through AiHello's precise bidding and campaign optimization techniques, the brand achieved an impressive ACoS reduction of 25%. This efficiency in advertising spend helped improve profitability and maximize return on investment.
Conclusion
The partnership between AiHello and the cosmetics brand stands as a testament to the agency's expertise and ability to drive exceptional results. Their innovative strategies, coupled with advanced technology and industry knowledge, transformed a struggling brand into a thriving success story on Amazon. If you're an Amazon seller facing similar challenges, consider partnering with AiHello to unlock your brand's true potential and embark on a journey toward accelerated growth and success.
Do you want to see how AiHello's fully automated and hybrid approach can supercharge your own Amazon business growth?
Get on a call with an expert here.No Commitment
2. Canopy Management
Year Founded: 2018Headquarters: Austin, TX, United StatesNumber of employees: 51-200
Canopy Management is a performance-based Amazon agency that has gained recognition as the fastest-growing Amazon agency in America. Their services include customized reporting, product photography and video, Amazon SEO, and inventory management, among others. 
Details
Human-to-Human ApproachCanopy Management positions itself as a trusted partner, combining human expertise with software-driven solutions. They pride themselves on delivering white-glove customer service, ensuring effective communication, and treating partners' businesses as their own.
Certifications, Awards, and Positive ReviewsWith over 10 certifications and awards from partners, Canopy Management has gained industry recognition and trust. Their commitment to scaling brands is evident in the many positive testimonials on their website.
Comprehensive Service OfferingsCanopy offers a wide range of services to support Amazon sellers. These services include customized reporting, high-quality product photography and video, Amazon SEO optimization, and efficient inventory management.
Impressive Growth and Partner Retention Canopy Management has achieved impressive year-over-year profit growth, managed substantial revenue for its clients, and boasts a high partner retention rate. Their focus on communication and treating partners' businesses as their own sets them apart.
3. BetterAMS
Year founded: 2016Headquarters: Bentonville, Arkansas, United StatesNumber of employees: 11-50
Another notable player in the Amazon marketing agency landscape is BetterAMS. BetterAMS is recognized as one of the best Amazon advertising agencies, known for their knowledge and excellent client relationships. They offer expertise in managing sponsored products, brands, display, video, and Amazon DSP. They also focus on campaign optimization, expansion, customized reporting, and budget management.
Details
Comprehensive Amazon Advertising ManagementBetterAMS manages various Amazon advertising campaign types, including Sponsored Products, Sponsored Brands, Sponsored Display, Sponsored Brands Video, and Amazon DSP. Their expertise covers all key advertising avenues on the platform, ensuring a holistic approach to maximize your advertising performance.
Campaign Optimization and ExpansionBetterAMS excels in optimizing campaigns to achieve optimal performance. By leveraging top-performing keywords and utilizing data-driven insights, they help expand your reach and drive better results. Their focus on continuous optimization also enables you to stay ahead in the competitive Amazon marketplace.
Customized Reporting and Budget ManagementBetterAMS understands the importance of tailored reporting to suit your business needs. They create customized reports that provide insights into your advertising performance, allowing you to make informed decisions. Additionally, their effective budget management systems ensure that your ad spend aligns with your advertising objectives, maximizing your return on investment.
Amazon DSP ExpertiseBetterAMS specializes in Amazon DSP, an advanced programmatic advertising platform. They use their expertise with the platform to help sellers reach their target audience effectively and create impactful advertising campaigns.
4. Ad Advance
Year founded: 2016Headquarters: Duluth, Minnesota, United StatesNumber of employees: 11-50
Ad Advance specializes in providing sophisticated and customized advertising solutions for established brands. They stand out with their attention to detail, allowing them to deliver results and provide valuable insights. They also offer Amazon DSP as a service alongside their Sponsored Ads services with their main focus being rapid improvement and a unique hybrid model combining both manual management and automation.
Details
Advertising Solutions for Established BrandsAd Advance is known for its ability to tailor advertising strategies specifically to meet the unique needs of established brands. Their expertise lies in crafting customized approaches that align with each client's goals and visibility requirements.
Impressive Global Reach and Sales GenerationWith a proven track record of generating an impressive number of impressions and sales in global markets, Ad Advance has established itself as a reliable partner for brands seeking to expand their reach and increase revenue through advertising.
Expertise in Amazon DSP and Sponsored AdsAd Advance excels in managing Amazon's Demand-Side Platform (DSP) ads, leveraging Amazon's first-party data to target specific audiences effectively. They also offer comprehensive management of Sponsored Ads, including Sponsored Products, Sponsored Brands, Sponsored Brands Video, and Sponsored Display.
Amazon Attribution and Multi-Channel TrackingFor brands with broader digital strategies, Ad Advance provides accurate Amazon Attribution, enabling them to track sales across multiple channels. This feature allows for a better understanding of the impact of each brand's advertising efforts.
Hybrid Agency Model and Human ExpertiseAd Advance combines the best of human instinct and automation technology for effective advertising management. With their team of Account Executives, their hybrid agency model enables them to provide unique advice tailored to each client's specific needs.
5. Incrementum Digital
Year founded: 2016Headquarters: New York, NY, United States.Number of employees: 51-200
Incrementum Digital propels brand growth with digital marketing, PPC management, creative services, and customer experience solutions. They collaborate with clients to achieve better outcomes on Amazon and the testimonials on their website emphasize integrity, transparency, and innovation. As an Amazon Ads Advanced Partner, Helium10 Agency Partner, and Perpetua Partnered Agency, Incrementum empowers brands to expand their online presence, fosters trust, harnesses data, and facilitates open communication.
Details
Proven Approach for Getting Better ResultsIncrementum Digital has a track record of delivering improved business outcomes for Amazon brands. They prioritize building solid partnerships with their clients and fostering mutual trust and respect throughout the collaboration. By understanding their client's unique goals and challenges, Incrementum Digital tailors their strategies to drive tangible results.
Data-First Approach and Expertise in OptimizationLeveraging a data-first approach, Incrementum Digital relies on a team of skilled Data Scientists to validate and optimize strategies. They understand the power of data-driven decision-making and continuously refine their clients' campaigns and advertising efforts for maximum effectiveness. By harnessing the power of data, Incrementum Digital helps brands stay ahead of the competition.
Open Communication and Expert SupportAt Incrementum Digital, open communication is highly valued. They provide a dedicated Slack channel, granting direct access to their team of experts and support specialists. This accessibility ensures that clients receive timely assistance, guidance, and support throughout their partnership. Incrementum Digital is committed to being there for its clients every step of the way.
Holistic Approach for Marketplace ImpactIncrementum Digital takes a holistic approach to achieve marketplace impact for its clients. They go beyond traditional advertising methods, diversifying ad formats, optimizing campaigns to double sales, enhancing product visibility with A+ content, and implementing a long-tail strategy to capture niche opportunities. This comprehensive approach allows their clients to maximize their potential on Amazon and drive sustained growth.
Passionate CultureWhat fuels the culture at Incrementum Digital is the founder's journey and passion for helping sellers achieve their goals. They have a deep understanding of the challenges sellers face and are dedicated to supporting their clients' success.
6. My Amazon Guy
Year founded: 2018Headquarters: Berkeley Lake, Georgia, United StatesNumber of employees: 201-500
Founded in 2018, My Amazon Guy has established a solid reputation in the Amazon marketing industry. They offer a range of services, including PPC, SEO, design, and platform management, aiming to increase sales by driving traffic and boosting conversions. My Amazon Guy also has a team of seasoned experts and offers access to over 450 SOPs to better manage your Amazon account. They have helped numerous brands succeed, and their services are backed by positive testimonials.
Details
Comprehensive Amazon Marketplace ServicesMy Amazon Guy provides a comprehensive suite of services tailored to enhance your Amazon business. From optimizing listings and managing advertising to enhancing brand content and handling platform management, they cover the key areas crucial to your success on Amazon.
Educational Resources and SupportRecognizing the importance of knowledge and continuous learning, My Amazon Guy goes beyond their services to offer courses, podcasts, and resources to help sellers improve their Amazon business. This commitment to education demonstrates their dedication to empowering their clients to succeed independently.
Industry Recognition and Media DetailsMy Amazon Guy has gained industry recognition and has been featured in notable media outlets such as Business Insider, Fox News, and Authority Magazine. These accolades reflect their expertise and credibility in the Amazon marketing space.
Additional Services and SpecializationsIn addition to its core offerings, My Amazon Guy provides a range of specialized services, including search term optimization, advertising audits, design services, competitor research, and more. This diverse set of capabilities allows them to address specific pain points and cater to individual business needs.
7. Nuanced Media
Year founded: 2010Headquarters: Tucson, Arizona, United StatesNumber of employees: 11-50
Nuanced Media is a full-service marketing agency with a specialization in Amazon and eCommerce brands. Their range of services encompasses various aspects of the Amazon marketplace and beyond, making them a versatile choice for sellers.
Details
Extensive Service OfferingsNuanced Media offers a comprehensive suite of services tailored to meet the diverse needs of Amazon and eCommerce brands. From keyword research and listing copywriting to graphic development, brand registry support, A+ content development, and PPC management, they cover every essential aspect of your marketing journey. Their expertise also extends to areas like product launch strategies, storefront design, and much more.
Time and Cost EfficiencyOne of the key advantages of working with Nuanced Media is their emphasis on saving time and money for their clients. Instead of creating a new department or hiring additional staff, you can leverage their specialized expertise to drive your marketing efforts. This streamlined approach allows you to focus on your core business operations while benefiting from their knowledge and experience.
Security and ConfidentialityNuanced Media places a high priority on the security and confidentiality of their client's information. In the competitive eCommerce landscape, protecting sensitive data is crucial, which is why Nuanced Media takes the necessary measures to safeguard your brand's integrity and maintain confidentiality throughout your partnership.
Collaboration and GrowthNuanced Media believes in fostering collaboration, transparency, and growth with its clients. They prioritize education, ensuring that you have a deep understanding of the strategies employed and the outcomes they drive. By working closely with their team, you can actively participate in shaping your marketing campaigns and drive your brand's growth.
Multi-Channel ExpertiseWhile specializing in Amazon and eCommerce marketing, Nuanced Media's expertise extends to multi-channel strategies.
8. e-Comas
Year founded: 2013Headquarters: LuxembourgNumber of employees: 51-200
e-Comas is a global eCommerce agency specializing in Amazon and other marketplaces.
https://www.aihello.com/resources/blog/top-40-amazon-marketing-agencies-in-2023/