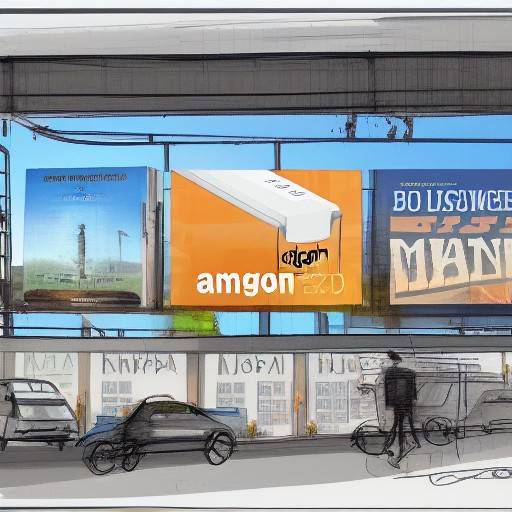 To properly target their audience and broaden their reach on Amazon Canada, marketers must improve their advertising strategy. It's crucial to be aware of all the ad formats Amazon offers, including Demand-Site Platform (DSP) and Amazon Sponsored Display, if you're just starting to promote your company.
You should think about leveraging the Amazon DSP and Sponsored Display Ads to increase your advertising efforts both on and off the Amazon platform. Each sort of advertisement functions differently while providing unique advantages. You must comprehend the primary distinctions and benefits associated with each type to make the most of each choice.
Amazon Sponsored Display Ads: What Are They?
Amazon Sponsored Display Ads are providing enormous chances for advertisers using Amazon Ads. By connecting to appropriate audiences both on and off of Amazon, it is a self-service advertising solution that aids in the development of enterprises.
All professional sellers, vendors, and agencies that sell on Amazon and are participants in the Amazon Brand Registry are eligible for Sponsored Display.
Amazon developed Sponsored Display to assist sellers in increasing their customer base and revenue via the use of simple to build and manage display advertising.
With Sponsored Display, you can increase consumer demand for your products online. By targeting the right demographics for your company, brands may do this. This also applies to individuals who aren't currently purchasing on Amazon.
Using auto-generated and performance-optimized creatives, you can quickly create Sponsored Display ad campaigns that promote your entire product range.
The following pages display the sponsored advertisements:
- Product Detail Pages on Desktop and Mobile 
- Customer Review Pages 
- The first page of the offer listings
Eligibility of Sponsored Display Ads
Vendors, agencies, and sellers who are members of the Amazon Brand Registry are all eligible to use these advertisements. Amazon Fire TV display advertising is now in beta for Fire TV app developers, Prime Video Channels, Prime Video Direct publishers, and movie distributors.
Sponsored Display Ads must be purchased for a minimum of $1.00. Since these advertisements are CPC-priced, you will only be charged when a user hits one of your display advertisements. Pricing is that easy.
What advantages do Amazon Sponsored Display Ads offer?
The main benefits of sponsored display ad campaigns are as follows:
- Increase brand exposure in your niche.
- Boost the volume of people that visit a product's details page.
- Place your greatest product beneath the listing of your competitors.
- Boost the prominence of new product listings.
Amazon Sponsored Display Advertisement is ideal for you if generating impressions is one of your primary objectives. Your impressions of new items will rise when you combine sponsored brands, sponsored displays, and sponsored products. You can reach more people in less time by doing this. This is essential for helping you advance from a newcomer to a seasoned professional in your field.
Using Sponsored Display Ads to increase your appeal in the upper funnel is a terrific idea as well.
You can retarget customers who have looked at both your products and those that are comparable to yours. You could choose to target customers who looked for terms associated with your product.
You'll be able to draw in more customers and move them down the sales funnel if you employ Sponsored Display while your rivals don't.
Since product display ads don't appear on Amazon's SERP, they have lower conversion rates (SERP). Because these commercials are less competitive than Sponsored Brand and Sponsored Product ads, your CPCs and overall spending will probably be lower.
Finally, you can put your greatest products against their best products by positioning your ad below the listing of a competitor. Ensure that the places your advertising target have a high chance of generating clicks and outperforming those where competing Amazon products are available.
Sponsored Display Ad Eligibility
Vendors, agencies with clients who sell products on Amazon, and sellers who are members of the Amazon Brand Registry may access these advertisements. There is a test programme for display advertising that runs on Amazon Fire TV for Prime Video Channels, Prime Video Direct publishers, and movie distributors.
Sponsored Display Ads demand a minimum expenditure of $1.00 to run. These advertisements are CPC-priced, meaning you will only be charged when a user clicks on one of your display adverts. That's how easy pricing is.
Targeting Options
1. Automatic Targeting
 Your advertising will appear on search results and product pages using automatic targeting using keywords and products. Amazon shows you adverts for products that are comparable to yours and based on keywords. Based on consumer behaviour, Amazon chooses these initiatives on its own. Currently, Sponsored Product Campaigns are the only ones that may use Automatic targeting.
2. Keyword targetting
In PPC campaigns, keyword targeting enables you to choose keywords to focus on product detail pages and search results. Only Amazon Sponsored Products and Amazon Sponsored Brands are eligible for keyword targeting at this time.
3. Product Targetting
There is an option for Amazon Product Targeting for both Sponsored Display and Sponsored Products. You can target your PPC campaigns with Product Targeting by selecting a category, brand, and other specific ASINs.
Amazon DSP: What is it?
The demand-side platform from Amazon is a platform for display marketing based on impressions. To market their goods, services, or brands, it enables advertisers to programmatically purchase display, video, and audio advertisements throughout the internet.
Marketers can access niche audiences on websites controlled by Amazon, such as IMDB. Using Amazon DSP, which offers inventory from Amazon Publisher Services and third-party exchanges, you can use well-known publishers' websites.
It enables marketers to access highly targeted audiences to greatly expand their reach both on and off the website. Instead of using the conventional sponsored search or PPC adverts, this enables them to target clients more broadly. Both Amazon and non-Amazon sellers have access to it.
Why Use the Demand-Side Platform from Amazon?
Without a question, Sponsored Ads should always be the primary place your brand allocates funds.
But eventually, you won't be able to leverage the on-platform demand to its fullest extent. In this situation, Amazon DSP is useful. It enables you to expand both inside and outside of Amazon to contextual audiences such as lookalike, lifestyle, and in-market audience segments.
In other words, it allows marketers to connect with customers who aren't actively browsing the website. The aim of the Amazon DSP is large. Utilising Amazon's massive first-party data improve marketing efforts at every stage of the sales funnel.
Marketers may increase top-of-funnel awareness among different audience segments by utilising a variety of retargeting tactics. While doing this, you can move the buyers down the sales funnel to the consideration and purchase stages.
It can be quite successful if DTC firms are willing to donate their first-party site data to create Amazon-matched lookalikes.
It's time to step up your Amazon advertising strategy after you've optimised all of the other ad formats, as was previously mentioned. Brands should integrate Amazon DSP into their strategy when they spend at least $25–$30K per month on Amazon advertising (depending on category).
It's a good idea to start with dynamically generated advertisements and see which audiences and placements work the best for you. To give advertisers the chance to retarget brand/product viewers, you must deploy lower-funnel retention strategies like product/brand remarketing.
What advantages does the Amazon Demand-Side Platform offer?
The only advertising platform that enables advertisers to run highly targeted display ads both within and outside of Amazon is the Amazon DSP. It reaches Amazon users who browse product detail pages but do not make a purchase.
These advertisements might be directed at customers who are just beginning their shopping journey in a certain category. When used properly, Amazon DSP adverts can contribute to the expansion of a brand's Amazon company or even its business elsewhere.
The following are some justifications to think about using Amazon's Demand Side Platform (DSP) for advertising:
1. Attract new clients
To boost discoverability and speed up growth, identify new customers on and off Amazon who are actively looking into relevant products with the intent to buy. Hyper-target and segment high-value clients based on purchase intent, recency, and contemplation time with relevant dynamic creative marketing.
2. Access Buyers Worldwide
Wherever you go, find your customers. Run display ads both on and outside of Amazon to connect with customers across the whole buying cycle. When used effectively, Amazon DSP offers audience targeting and dynamic e-commerce creative to reach customers. As a result, marketers may reach a wider audience, build brand recognition, and show a significant return on investment.
3. Economical Ads
Make your advertising budget work harder by reducing wasted ad impressions. To ascertain your brand's success on the Amazon-DSP, start small and grow your efforts after a few months of data.
You may learn more about the ideal customer for your brand by using Amazon's audience insights. Additionally, you may discover how frequently they make purchases, how long they think about a purchase before making it, and other useful information on your product watchers and buyers. Use this knowledge and incorporate it into Amazon's overarching strategy. It will facilitate bid adjustments and increase the likelihood of securing specified audience segments and ad positions.
4. Dynamic Advertising
You may advertise new firms, client testimonials, and special offers with dynamic e-commerce content that resembles an Amazon listing. Dynamic creatives can increase CTR and conversions to brand stores and product pages.
Amazon Sponsored Display Ads vs. Amazon DSP
Are you considering employing advertisements to increase sales and awareness of your Amazon business? You should be aware of the variations between Amazon-DSP and Sponsored Display Ads.
Here are the top 4 distinctions between Amazon Sponsored Display and DSP:
1. Brand Eligibility
DSP is available to companies that don't sell directly on Amazon. On the other side, Sponsored Display Advertising is solely present on Amazon. Advertisers on Amazon's marketplaces can boost sales and brand recognition by using Sponsored Display advertising. Although they might appear elsewhere, advertising will always point users to your Amazon listings.
DSP advertisers have the option of sending visitors to an Amazon product listing or external, non-Amazon websites. DSP is therefore the best strategy for businesses that don't sell on Amazon to access Amazon's customer base.
2. Cost Structure for Sponsored Display and DSP
Each ad type's price should have an impact on how and where it fits into your marketing plan and how you measure its efficacy. The Cost Per Mille model underlies the pricing for DSP advertisements (CPM). This is the typical price for giving your clients 1,000 ad impressions. A Pay Per Click (PPC) approach can be used to create Sponsored Display advertisements. This is based on the typical fee you incur each time a user clicks on one of your ads.
Depending on the conversion rates of your advertisements, CPM or PPC may be more advantageous. Your objectives, such as conversions vs. brand recognition, may have an impact on the cost structure you choose.
3. Sponsored Display and DSP Minimum Investment
By using Sponsored Display adverts to drive all visitors back to your Amazon listing, Amazon assists firms with a simple launch.
Any business may easily get started and progressively build their expenditure before committing with a $1 minimum purchase.
While DSP requires a greater commitment to benefit from the program's improved reporting and audience insights. The self-service advertising system has a $10,000 minimum monthly expenditure requirement. The Amazon Managed Services DSP option requires a minimum monthly spend of $35,000. With this extra expenditure, programmatic advertising professionals can fine-tune ad campaigns.
Amazon's DSP programme offers a more comprehensive ad choice, but at a higher cost, compared to Sponsored Display advertising, which has a lower entry barrier.
4. Targeting Specific Audiences
The three targeting options offered in Sponsored Display advertisements are product targeting, views remarketing, and audience interests. Sponsored Display focuses on straightforward, automatic retargeting rather than requiring marketers to establish particular audience segments.
DSP adverts are best for advertisers who wish to target niche markets. Based on Amazon demographic and user activity data, they can use Amazon DSP to develop personalised segments. With data obtained straight from your clients, they can also develop customised audiences. As a result, they can develop audiences for specifically tailored, contextual, and highly targeted advertisements.
While each of these two distinct ad types has its own set of benefits, they may be utilised together or alone to produce fantastic results. Retargeting advertising for the Sponsored Display audience is a less expensive option to track the performance of certain ASINs. It can be used to target and improve DSP campaigns.
Conclusion
Amazon is enhancing its advertising possibilities to entice more marketers and companies. Sponsored advertisements will thus face more competition in the future. Now is the moment to improve your PPC tactics.
Since not every advertiser will spend $35K+ on Amazon Advertising, Sponsored Display Ads are more affordable for the majority of advertisers. There are many targeting possibilities for Amazon Sponsored Display Ads if your spending is insufficient to use Amazon DSP.
https://www.aihello.com/resources/blog/amazon-sponsored-display-vs-dsp-what-are-they-and-how-are-they-different/