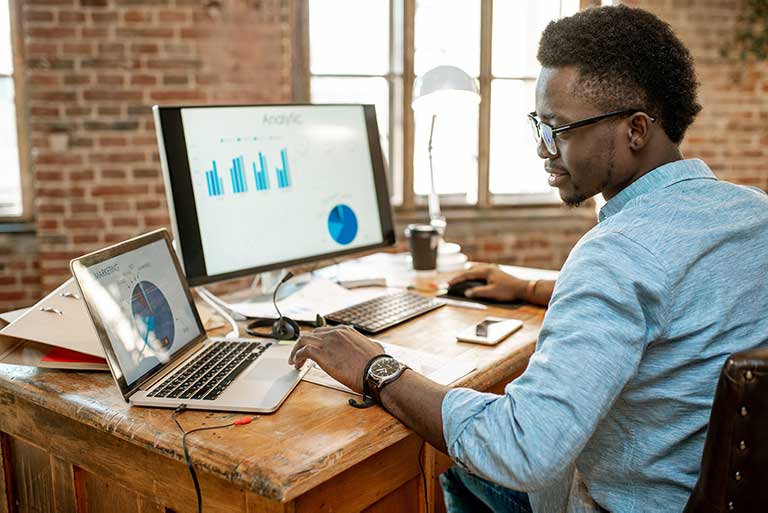 Amazon is a digital Mecca in the world of eCommerce. Amazon currently accounts for over half of all eCommerce sales (45%).
Winning on Amazon is crucial for businesses and retailers. However, with more than 9.7 million vendors vying for first place—and new merchants joining every day—doing so is easier said than done.
So, how can merchants, particularly smaller businesses, stand out in an overcrowded market?
The answer is Amazon brand analytics. Here's how you can use it to your advantage.
What Is Amazon Brand Analytics Tool and How Does It Work?
The enormous retail behemoth just introduced ABA, a new "analytics" for its marketplace businesses (Amazon Brand Analytics).
It's available to brand sellers who:
- An internal brand employee
-  And, who is in charge of selling the company's items on Amazon?
"Brand Analytics is a feature that provides significant insights to enable Brand Owners to make informed, strategic decisions about their product portfolio and marketing/advertising activities," according to Amazon.
The ABA allows businesses to see:
- Keywords and phrases (based on searches by Amazon customers to find their products)
- In relation to other terms in their database, how "popular" a keyword is. You can now see the most clicked ASINs based on a certain search term using the Search Frequency Rank tab, for example.
- Click and conversion share (i.e., the percentage of clicks received by the "most clicked" ASINs for a given search query)
- Brand Owners can see a breakdown of their Amazon customers (in aggregate) by age, household income, education, gender, and marital status in the Demographics report.
- The Item Comparison report displays the top 5 products most frequently viewed on the same day as the Brand Owner's products, as well as the percentage of time each product was viewed on the same day as the Brand Owner's products within the reporting period chosen by the user.
Amazon Brand Analytics Eligibility Criteria
To use the Amazon Brand Analytics tool, you must meet the following requirements:
- Have access to brand analytics
- Sell on Amazon.com
Every 3P seller that is participating in Amazon's Brand Registry programme has access to Amazon Brand Analytics (ABA).
Though it is not yet available for all accounts, if you have access to its new report, you can view it here.
Note: If you don't have access to the Brand Analytics tool, it simply means you haven't been identified as someone who meets the Amazon Brand Registry's standards.
If you don't meet these requirements, you can contact the Seller Support staff at any moment.
Types of Reports provided by Amazon Brand Analytics Tool:
It offers six different sorts of detailed analytics reports, which we'll go over in depth below. They include the following:
1. Amazon Search Term Report:
Keywords are crucial for your brand's SEO efforts on Google, as you probably know. The same may be said about Amazon. How you market and place the text for related items is influenced by what customers type in while searching for products.
The Search Term Report from Amazon provides invaluable insight into consumer search behaviour throughout the short and long term. The following topics are covered in detail in the reports:
- The most common search phrases during a period
- The frequency of searches for each phrase is ranked.
- Customers clicked on the top three products after searching for the term
- Each product's share of clicks and conversions
In a similar vein, users can search for a specific term and then evaluate the products that Amazon shoppers click on as a result of their search. They can also utilise a search engine to seek up specific products to see what terms are being used.
The following are the six primary points covered in this report:
- Product title - According to the product's Amazon Standard Identification Number, this is the title of the product (ASIN)
- Search Term - The word or keyword phrase that the Amazon consumer used to look up a product.
- SFR (search frequency rank) - A numeric ranking of a term's popularity in comparison to all other search keywords during a certain period. This shows how popular a keyword is in comparison to related search phrases.
- Click share - The total number of times a consumer clicked on a specific product for a search query divided by the total number of times a customer clicked on any sort of product for a search term
- Conversion share - The percentage of customers who bought a specific product for that search phrase divided by the total number of customers who bought anything for that search term.
- Clicked ASIN - The goods that earned the most clicks from shoppers for a given keyword, whether organically or through paid advertising.
2. Amazon Demographics Report
Knowing your customer is a crucial component of marketing and sales. A single male college student's purchases and responses to messaging will be vastly different from a married mother of three.
The Amazon demographics report helps merchants figure out who their ideal customer is and how to market to them most effectively. It includes both tables and bar graphs that display the following data:
- A demographic indicator
- The total number of distinct clients who bought goods.
- Customers who are one-of-a-kind as a percentage of all customers
- Product sales that have been ordered
- As a percentage of total sales ordered product sales
- Units ordered in total
- Each demographic segment's units are ordered as a percentage of the total.
This report's greatest value to sellers comes from the changing demographic metric. You can make adjustments based on the following factors:
- Sales by age group - Amazon divides this category into six buyer subgroups so you can observe which age groups respond to your product or content the best.
- Sales per household income - You may see where the buyer falls into one of the nine socioeconomic status levels by looking at
- Education status - Amazon gives information on a customer's level of education, which can affect how you market to them.
- Sex - You can see whether the product was purchased by a guy or a woman by looking at the gender.
Demographic data can help you get a better idea of who your typical customer is. This enables you to generate rich consumer personas, target messages and advertisements, and improve your sales and marketing funnel.
3. Report on Item Comparisons
The item comparison report displays the five most popular products that customers viewed within 24 hours after viewing your product listing, as well as the proportion of customers who saw each product.
The following metrics are used in the comparative report:
- Compared ASIN  – The ASIN to which your product was compared.
- Compared percentage – The number of times a product has been viewed on the same day as yours.
- Alternative purchase behaviour - This enables you to see what competitors' products clients purchased after seeing yours.
- Purchased percentage - The proportion of orders with the ASIN compared to total orders with alternative items.
Amazon claims that "This gives Rights Owners immediate access to competing products, allowing them to make more informed product portfolio and advertising decisions."
4. Alternate Purchase Report
The alternate purchase report, like the item comparison report, allows you to see the top five most often purchased products instead of your own. It also shows the proportion of time each product was used as an alternate product of choice.
It, like the comparative report, uses the parameters mentioned above while also allowing you to filter the report by:
- ASIN 
- Brand 
- Category 
- Subcategory
- Term for search
According to Search Engine Journal, "You'll receive detailed data in the form of a percentage indicating how frequently your product is compared to the top comparable products. It allows us to see what ASIN customers are looking at and how quickly they are buying the rival product."
5. Market Basket Report
The market basket report is widely regarded as one of the most significant brand analytics tools, particularly when it comes to understanding consumer behaviour and improving paid ad campaigns.
What is the mechanism behind it?
This report displays the top three products that customers purchased most frequently at the same time as your own. Products that were acquired in a proportional amount to your own could be regarded as complementary, allowing you to cross-market or bundle them. You can filter by the following key metrics:
- Most Purchased ASIN
- Most purchased titles
- Combinations
This information can assist you in developing new sponsored goods campaigns. Furthermore, if your products are purchased in tandem through PPC ads, they are more likely to appear in the "Customers who bought this item also bought" area.
6. Report on Recurring Purchases
Many things are designed to be bought over and over again. To be successful in this area, you must not only persuade consumers to buy the goods for the first time but also keep their loyalty. Such consumers are frequently retargeted to make a second purchase.
This report displays the total number of orders received for each product or brand, as well as the percentage of those orders that are unique customers. The following metrics are displayed:
- ASIN
- Unique Customers
- Orders
- Product Title
- Repeat purchase revenue 
You can also select items that have the highest possibility of being repurchased if you're wanting to learn more about your products. This knowledge could lead to you investing more money in first conversions or bidding higher for associated key phrases.
The Advantages of Using Amazon's Brand Analytics Tool
More vendors are signing up since Amazon become one of the world's most profitable retail companies. As a result, competition is becoming more fierce in most industries, making it critical to have access to all of your competitors' data. This information aids in increasing your market share and expanding your brand.
There are valid reasons to use ABA because it is more like an enriched data bank that allows you to "spy" or "keep an eye" on your competitors. It allows you to categorise the primary elements that influence the sales of your biggest competitors.
The following are some of the advantages of using this tool:
1. It is entirely free.
Brand Analytics' dashboard provides some of the most valuable data, which you would have to pay a lot of money to get from any other platform. But, since you're getting the info for free, why not take advantage of it? This feature is extremely remarkable because it has all of the critical data that you won't find in any other database.
2. It assists you in identifying potential keywords.
This application not only shows you some of the best data from your competition and potential customers but also assists you in choosing effective keywords. You can simply find this by looking at the "search frequency rank" column. It guarantees that you use the proper keywords so that you may optimise your listings for Amazon's store while also improving organic rankings.
3. It aids in the identification of your target audience's shopping habits.
Assume you're in the business of selling organic moisturisers. Assume you identified a top-performing keyword like "organic moisturisers for teens" when researching this search term on brand analytics.
What is the first thing that comes to mind when you think of this keyword? So, it's evident that the people looking for this keyword are either teenagers or parents who are ready to buy what they're looking for.
This information can be put to good use by boosting your ad bids for this keyword. You may even tailor the Amazon store to appeal to parents, particularly mothers. You can also advertise your products as "kid-friendly" or "environmentally friendly."
4. It's quite user-friendly.
To utilise this tool, you don't need to be an expert in analytics. Amazon has created a user-friendly interface for "Brand Analytics." As a result, it's simple to use and play with.
5. It provides more information about your products.
ABA assists you in identifying the search phrases that lead to sales. As a result, you will have a better understanding of your things. Assume you're the owner of a sports shoe company, and your customers search for "best sports shoes." If you rank for a search keyword, it simply implies that your product is thought to be the "best" in your field.
Conclusion
Amazon Brand Analytics is a platform that provides some of the most critical insights to assist Brand Owners in making informed and strategic decisions about their products and other advertising operations.
Previously, it was only available to Amazon Vendors with a starting price of $30,000. It is now available to every Brand Owner who has successfully registered with their Brand Registry.
The ABA tool will assist this retail agency in increasing its ad revenue in the next years. Because the platform is becoming more unified, we recommend that you make the most of Amazon's analytical capabilities. It will also assist retailers in reaching out to new customers because they will be able to target the audience with specialised advertising methods. As a result, this will result in a fantastic win-win situation.
https://www.aihello.com/resources/blog/amazon-brand-analytics-a-complete-guide-2022/