How to Sell More Books with Amazon Ads Automation for KDP Authors?
An author's main aim is to get their work acknowledged and read by a wide number of audiences. Amazon being the largest and best platform to get one's book published is indeed a great achievement. But then what? Obviously, one has to familiarize their book among the reader's world with the automation of Ads processes. If you are a KDP author and new to this self-publishing world then you must get aware of the various ways of Amazon Ads automation in order to sell more books. Now the main question comes forth as:
What is Amazon Marketing Services?
Advertising is the key element to get one's product noticeable. Amazon Marketing Services which were launched in 2012, can be used to advertise any product whether it be books or clothes. They offer effective tools which help authors stand out against their competitors by bringing in a lot of traffic. AMS offers the authors to tailor their Amazon Ads with targeted audiences where the probable customers will be able to see it. Through PPC bidding that is Pay Per Click, one has to create an ad campaign. This is something which needs in depth knowing which is discussed further in the article. The overview of the Amazon Advertising dashboard gives all the information about your budget, sales, spends and Advertising Cost of Sales(ACoS).
Types of Amazon Ads.
Ads are used to organically generate visibility in order to increase the number of sales. But the increasing integer of competition into the Amazon marketplace with so many authors trying to make themselves visible is quite hard. So, here comes various ways to advertise smartly and effectively. Sponsored product ads, Product Display ads and Headline Search ads comes under the categories of Amazon Ads. Here's the visual of all the three ads: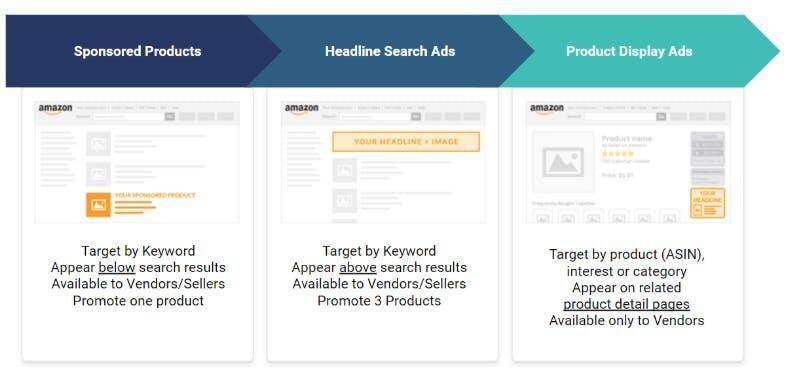 Sponsored Ads
These are ads which appear in the search result list and work hugely with keywords. The people search for related keywords and the product appears in the search result. The keywords that should be Broad which matches your keyword to the customer's search term or phrase. They are pay-per-click advertising campaigns similar to google ads. These ads target the specific individual or product appearing in the carousel of the product detail page.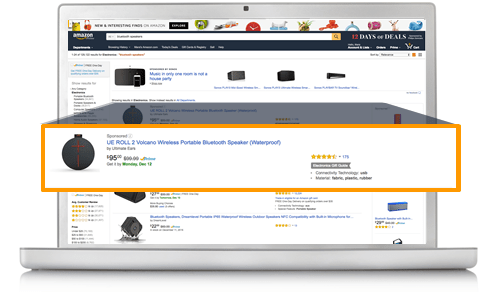 Headline Search Ads
This is quite similar to sponsored product ads which use pay-per-click and keyword targeting. But there's a slight difference as sponsored product ads are used in advertising of one product and Sponsored Brand ads display several products at a time. It appears on the very top search results page. When clicked upon, there is a certain call to action and the shopper is sent directly to the curated page featuring the product.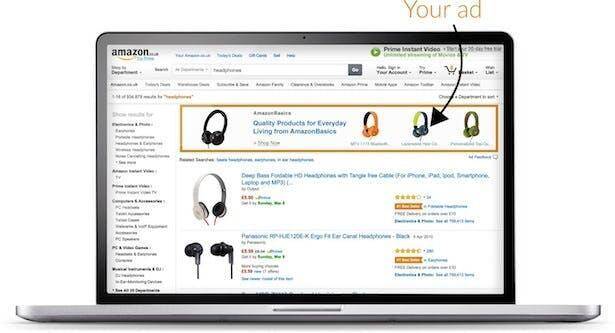 Product Display Ads/ Lockscreen Ads
This one which is known as Product display ads, has now been nixed and is replaced by Lockscreen ads. These ads do not focus on keywords targeting instead they target people based on their interests and the genres they read. This is for the authors who want to sell their eBooks. Unlike Sponsored ads, these types of ads may appear at the top of the search bar, at the middle of your screen or at the bottom of the page depending upon the bidding and relevancy of the keywords. It appears on the Kindle device and has a lifetime budget fixed.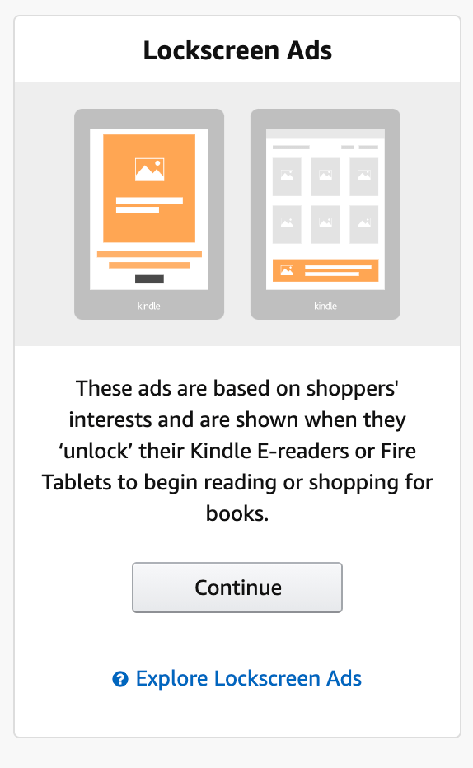 Costing of Amazon ads.
Amazon demands daily ad spend ($2.00 or more) on Sponsored products which one can set themselves, keeping in mind of their competitors. The ad spent on Lockscreen ones initially looks expensive but then it can be used for the lifetime basis that is $100. This will be spent once and will give results the whole life. Setting up a daily budget can be quite expensive, as the spending's are on a regular basis. One can set a weekly reminder, so that you are aware of the money getting deducted from your account.
When you pay for your Amazon Ads and if it doesn't get a click, then you may not get charged. This is because Amazon does not spend all of your daily budget. If you are spending $2.00 then Amazon may spend $0.2. It totally depends upon the people who have clicked upon your ad. So, higher the bids greater are the chances of your ad getting displayed on the search panel. Though it can be costly if one doesn't put an end date.
Managing the Ad Campaigns with Proper Keywords.
Amazon Keywords are the lifeline but make sure that they are properly used. One can actually make big sales through the use of keywords. Though setting up the keywords narrows down the audience, if your book is related to the Romance genre then it will appear in the search panel when someone searches for romance books. So, targeting is done mainly to attract an audience of your genre who will love to buy your book. Yet here again, Targeting is also of two types: Manual and Automatic. When you are creating an AD Campaign on Amazon Advertising, you will get two options: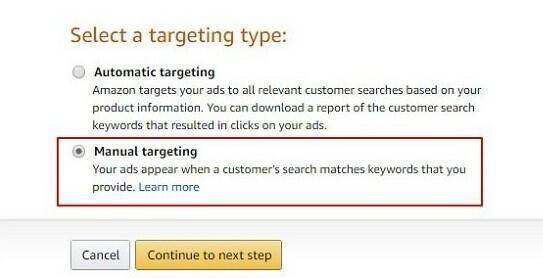 Automatic Campaign lets Amazon do all the work for your product. It selects the keywords that match your product's category and description. It is mostly helpful for the PPC beginners because as it is easy to start. It will collect all the data and track clicks and spends. But choosing the automated way may have drawbacks like Amazon may choose relevant keywords and it may not be profitable for you. But it doesn't mean that one cannot try automated campaigns as the type of data it collects can definitely be helpful.
Manual Campaign is done solely by oneself where you get to choose relevant and profitable keywords you want to bid. They can even choose phrase match, broad and exact keywords while bidding to fine tune your ad spends. It is wise to choose less relevant keywords rather than a bigger amount in order to have great results. It serves more profitable as one can even lower the bids on the keywords that are low-performing. Though it is time taking but the results will be worth it if given proper time and energy.
But as it is said that Amazon Market is ever changing with new things being launched. In order to be successful, one has to keep a constant watch with bids and see what is working and what is not. So, one needs to keep optimizing your ad campaigns. Every possible combination of keyword is applicable, like if your book is about Murder mystery and it also involves supernatural creatures. Then you should search for the books related to such topics and add similar books and titles into yours. This can jack up the possibilities of your success and extensive hard work and can eventually give you results.