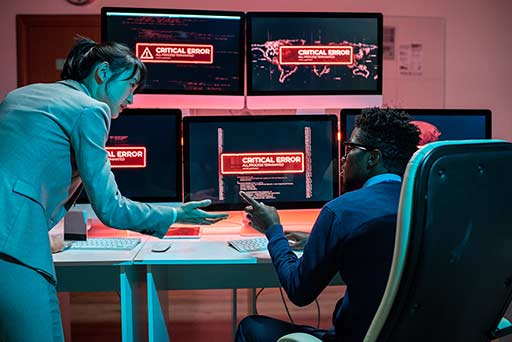 Starting your own business appears to be a simple task. Most individuals, however, only see the tip of the iceberg. They realize the benefits that come with starting their own business. However, they are clueless about the procedure for getting there. Creating marketing strategies that are productive for your Amazon business is one of those steps. Why should a business use an Amazon marketing agency in the first place? What benefits do they gain from working with an Amazon seller consultant?
Over the course of time, the methodologies employed in marketing have undergone significant transformation. It is imperative for businesses to remain abreast of prevailing trends to maintain a competitive advantage. Digital marketing changed the way organizations interact with their customers. Creating a website for your company and running advertisements isn't enough. You should make sure your company is running on a reputable eCommerce platform.
With so many responsibilities on your plate, completing them all on your own would be challenging. It's a good thing there are Amazon ad agencies where you may get professional assistance. Let's get down to business in this post, and see how an Amazon digital marketing agency can help you with these responsibilities.
Amazon Search Engine Optimization
On Amazon, marketing involves coming up with innovative ways to capture your consumers' interest and optimizing adverts with keywords so that they show in client search results.
A10 is the algorithm that governs Amazon. With the change of name from A9 to A10 this year, Amazon modified the algorithm's checks. These are the several regions that the A10 is different from A9:
- The A10 Algorithm emphasises the value of good seller feedback, implying that older companies with more positive feedback would count more than fresher products.
- Sponsored links in the A9 Amazon Algorithm were capable of making a difference in raising product ranking, however this is no longer the case with the revised version. You won't be able to obtain much success from your PPC advertisements in the A10 Algorithm if they aren't planned and worthwhile.
- Previously, Amazon A9 gave favour to profitable goods, which tended to be listed at the top, but the A10 algorithm has prioritised relevance. Buyer search queries will be given the highest weight, and items that are 100 percent correct and relevant will be given a better ranking, even if they are not profitable.
- The Click Through Rate is another area of the A10 Algorithm where things don't appear to be as comparable as they were in the A9 Algorithm. Relevant keywords and enticing pictures are essential for a high click-through rate. According to the A10 Algorithm, if your product's CTR is higher, it has a better probability of being highly rated. Yes, CTR is important, but it isn't the be-all and end-all. Amazon also looks at the conversion rate of your goods when it receives a high CTR rate.
Keyword Research
Keyword optimization is essential for search enine optimization. But here we will discuss keyword optimization while making PPC campaigns. Pay-per-click keywords must be optimized in a way that consumers search for the keywords that you are using. This way more consumers will click on your website, leading to more traffic and hence you will be able to convert more and more consumers into your customers. 
PPC keyword optimization is all about using the right keywords for the right set of customers. Align your website with the consumer's language! 
Some points that must be remembered while doing keyword optimization for PPC are given below. 
-  Keyword Research : Doing keyword research is a pre-requisite for determining which keywords hold more potential for driving traffic. It will also help you in bidding on the right keywords. 
- Segmentation of Keywords : By optimizing the keywords, your keywords are organized into groups that are semantically related to each other. 
- PPC Ad Text : Your keywords need to be aligned in the ad text so that searchers click your ads. You need to understand how to craft your ad text. 
- Keywords on Landing Page : The optimized words or optimized keywords that you are using in the ad text must be visible on your landing page so that the user lands on your page and matches with the offer. 
- More Relevance : The searcher's keywords and your keywords lead to a higher CTR (Click through rate) if they are optimized. Higher the CTR, higher the quality score. All these lead to more relevance for your PPC.
Product Page Optimization
After you've decided which keywords to utilize, you can start optimizing your product page by putting them in prominent places like:
- Keep in mind the character count limit while creating a product title. Instead of adding your brand name, which may have less searches, we recommend using the character allowance in the product title for high-performing keywords.
- Product Description and Bullet Points: Make the most of Amazon's suggested bullet point length of 1000 characters by crafting legible, useful, and optimized descriptions and good-to-knows.
- Keywords for the backend: There will be times when your research yields keywords that are badly formatted, such as abbreviations, misspelled words, or foreign phrases. It can be tough to incorporate these into an engaging product page description or article. So, where do they go? The backend is where everything happens.
How Can An Agency Assist You?
When you work with an Amazon online marketing agency, you'll have access to professionals who can help you with keyword research, SEO, and increased brand material.
Start and monitor your SEO campaign.
Your keyword research will be done by SEO professionals who will employ the use of reliable keyword research tools. Thinking about competitive analysis? An SEO team will also be the ones to pick which keywords to employ in a sea of ideas. This will be included in the tasks of these professionals as well.
Copywriters are in charge of the page text content.
The chosen keywords will be smoothly included into the product bullet points by copywriters. To ensure readability and optimization, experienced copywriters will seamlessly blend information about your products and keywords. They'll use the Amazon bullet point standards of five bullet points and 1000 characters to persuade your product page visitors that you're the greatest option on the market and that they should buy your product.
Team of Graphic Designers for Attractive Images
The visuals you'll obtain from an Amazon marketing services agency will be created by trained graphic designers. They'll create graphics that are just as informative as the words you put in your bullet points. For example, your product description will give you more details about the item you're selling.
Amazon Advertising
It's time to investigate Amazon PPC ads and the many tactics for achieving success on the market.
Here are some tips to help you with your PPC ad strategies:
To Get The Most Out Of Your Amazon Listings' SEO, Offer Unique Content.
Although Amazon's product listings aren't designed for aesthetics or customizability, you may still use the platform to increase brand recognition. Amazon has created the Enhanced Brand Content function in response to the necessity to update the listing in order to increase sales (EBC). Sellers who are part of the Amazon Brand Registry program, on the other hand, are the only ones who can use this option.
EBC is the A+ content accessible on Seller Central, where certified sellers may upload images and descriptions while promoting their businesses with more freedom. Create original material by employing high-quality, real-world images and videos to make your things and brand stand out once you've mastered this feature. To engage more potential buyers, show how the products are used and beneficial in real life.
Use Relevant Keywords In The Title And Description Of Your Product.
Make sure your listing title and description include important keywords that buyers commonly use when searching for products to rank higher on the search result page. The algorithm determines your listing's relationship to what potential shoppers are looking for on Amazon as a result, giving your products more visibility. The more visible you are, the more sales you can make.
As a result, conduct extensive keyword research to determine which keywords should be included in your title and description. However, if you are doubtful, you should seek the advice of an SEO specialist. Assess which keywords should be in the title and place them strategically throughout the Amazon listing.
Make Sure To Emphasize Your Product's Qualities And Benefits.
Use the bullet section to highlight the product's five most important qualities that set it apart from the competitors. It's more vital to focus on the content of your product feature than the amount of features you offer. You are not required to fill out five bullet points for product features. It's all about delivering good bullet points to persuade people to buy your product.
Use the product description if you have more than five bullet points to describe your product's qualities. In the product description, you have more freedom to explain and advertise your goods.
Meanwhile, make the most of the description area by including information such as sizing charts, product measurements, available colours, and variants.
To avoid turning off potential purchasers, make sure your listing is free of grammatical errors and deceptive marketing. You can hire copywriters to create a remarkable output for your Amazon listing if you aren't skilled at writing. Because many buyers read product descriptions, you must provide a well-written description and make effective use of it to encourage them to buy.
Upload Product Photographs That Are Both Clean And Appealing.
In the e-commerce market, photos are crucial. Because customers can't view the things in person, the uploaded photos are their only source of information about how the product looks. As a result, ensure that all of your photographs are of good quality and that you follow Amazon's criteria.
To be clear and minimise confusion, one of these requirements is to have a clean white background. Furthermore, make sure that your product takes up 85 percent of the image, regardless of the perspective. Finally, make sure they're visually appealing and of high-definition quality.
If you have the necessary tools and equipment, use them. If you want better results, you can employ a professional photographer.
Check Your Customers' Reviews And Respond To Their Problems As Soon As Possible.
Your customer reviews are also important to Amazon's A10 algorithm. It takes into account your ratings in addition to the content of your product listing. To retain a positive store reputation and top rating, you must receive positive feedback from your customers.
Negative comments, on the other hand, should not deter you. Instead, use this as an opportunity to engage with your customers and respond to their issues promptly and courteously to demonstrate that you care about them. Check to see whether their reviews are about the goods rather than you, the seller. In this situation, go to Seller Central and request that the feedback be removed.
How an Advertising Agency Can Assist
Here are some of the ways that an Amazon team can help:
Your campaigns will be managed by PPC experts.
PPC strategizing, ad campaign monitoring, data analysis, reporting, and, if necessary, strategy tweaks are all duties that a PPC professional from an Amazon marketing business can assist you with. So having an Amazon expert look into an area of your business where you've invested so much pays off.
Advertisement optimization
Similarly, because Amazon SEO professionals are in charge of your store's optimization, they will also offer keyword ideas for your ad. As a result, you can rest assured that the keywords you bid on have been thoroughly researched by professionals before being chosen at random.
Experts in marketing will make your adverts stand out.
In the year 2022, there will be 9.7 million Amazon sellers globally, and to say the competition is fierce is an understatement. A team of marketing specialists assures that the ads will capture the attention of your target audiences, arouse their interest, and encourage them to click through to discover more about the product.
Marketing (External Links)
Ads from external links or affiliate marketing are the last but not least of the three factors to consider in Amazon marketing. External advertising were not taken into account by the algorithm on A9, but they are now given a lot of weight in the new A10 changes.
Affiliate Marketing on Amazon
You can use Amazon affiliate marketing as a starting point for developing external links. You can make your own website and use external connections to post some blogs. You can also use social media marketing to your advantage by including links in the posts you produce on various platforms.
Aside from this method, you can also collaborate with high-traffic bloggers to have them recommend your product and add an affiliate link in their writings. Another option is to collaborate with social media influencers in your niche.
How it works is as follows:
- The Amazon Affiliate Program allows interested endorsers to sign up.
- To obtain your product links, you can use various link kinds such as SiteStripe, product links, banners, or API.
- Once you've obtained the links, you can easily incorporate them into your blogs and social media posts.
Bloggers and influencers who participate in this program are compensated in three ways: per-click, per-sale, and per-lead.
Campaign Marketing Suggestions
Now that you know how to use Amazon Affiliate Marketing, here are some pointers to help you make sure your efforts outside of the platform achieve the clicks and sales you want.
Make use of a variety of social media sites.
You can use Facebook, Instagram, Twitter, and LinkedIn, to name a few social media networks. You have the option of creating accounts on all sites or focusing on those where your target audiences are active. For your material, you can use videos, photos, or text.
Recognize the value of videos in marketing.
Despite this, studies show that videos are the most enticing of all content forms, with 8 out of 10 customers making a purchase decision after seeing a product video. With that in mind, you can give it a shot and see how it goes!
Make sure your blog postings are well-planned.
Blog postings, on the other hand, are excellent sources of in-depth information and are especially useful for potential clients conducting research prior to making a purchase. Single and round-up product reviews, which include product information as well as advantages and cons, are excellent blog post kinds.
Don't be afraid to think outside the box.
Finally, develop one-of-a-kind advertisements that will not only catch people's attention but also help them remember your business and items. Hold webinars, host events, collaborate with Youtube vloggers, and run social media contests—the marketing possibilities are endless. To make your brand stand out, squeeze out all of your ingenuity.
How an Advertising Agency Can Assist
You may take use of a slew of marketing advantages to maintain your internet presence visible and floating. Here are a few examples:
You'll have the opportunity to collaborate with social media marketing specialists.
Social media marketing is not only posting material but also optimizing it so that it reaches the correct audience. Social media professionals at an Amazon marketing agency will do market research to determine which social media site your target customer uses. They'll also give you more information on what's hot right now and how you can incorporate it into your marketing approach.
Your website will be built by experts.
You won't need to go elsewhere for website developers and designers because an Amazon agency has a team of experts that will handle the building and design of your website.
Your blog's content team
A content team comprised of SEO specialists and content writers will develop content for you once your website is up and running. Every piece of information has been optimized to appear in Google's search results. Article will be both educational and appealing, so if there is a link to Amazon in the content, blog readers will be enticed to click.
Conclusion
These basic questions, as well as their follow-ups, should be easy for any Amazon agency or consultant worth their salt to answer. To raise your brand and realize your vision, the potential hire must be versatile, flexible, and aligned with your company goals.
Keep a look out for distinguishing characteristics, such as proprietary software, which might provide you an advantage over competitors and other firms. Examine their array of services to discover if there are any areas where your company could profit. If they offer a diverse range of services, they will be able to meet the majority of your requirements under one roof.
https://www.aihello.com/resources/blog/amazon-marketing-services-agency-get-expert-assistance-on-the-critical-areas-of-marketing/