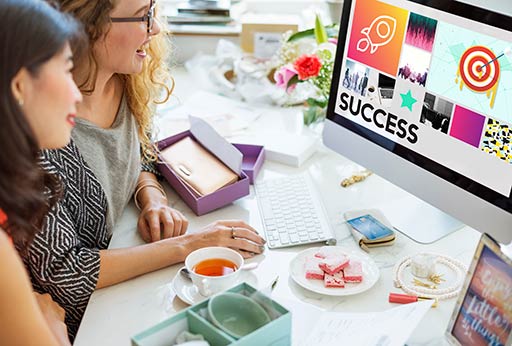 The advertising possibilities on Amazon are far more effective than you might expect. Even if your customers haven't arrived yet, Amazon advertising alternatives can put you in front of them. This is due to the fact that their ad solutions are not platform-specific.
Every month, Amazon receives over 2 billion visitors (Source). If you're a brand looking to extend beyond Amazon and reach new customers, the Amazon demand-side platform (DSP) could be the answer.
Amazon became a profit haven for sellers from all over the world. All a seller has to do is post the goods, create the brand, collect reviews, and sponsor their products, and sales and money will follow.
Sellers and their items multiplied like wildfire and continue to do so, while client numbers stayed constant. Because client numbers do not increase with search advertising, total sales with Amazon advertising via console are limited, resulting in a bottleneck situation. Isn't it true that Amazon requires consumers in order for the sale to take place?
As a result, Amazon – DSP: Demand Side Platform – was formed.
What is Amazon DSP, and how does it work? What are the advantages and why should you try it? Let's have a look at them all.
What Is Amazon DSP, and How Does It Work?
The Amazon DSP (Demand Side Platform) is a component of the Amazon Advertising program, allowing agencies and marketers to reach a wide range of people programmatically via the web.
Before you can fully comprehend this, you must first understand what programmatic advertising is.
Programmatic Advertising - A Brief
Rather than buying directly from a publisher, programmatic advertising is an automated means of buying and selling digital adverts.
Through automation, the primary purpose of programmatic advertising is to enhance openness and efficiency among publishers and advertisers.
Around 88 percent of digital display marketing will be conducted through programmatic advertising by the end of 2022, according to estimates. Programmatic advertising's increasing effectiveness checks all the boxes on advertisers' wish lists. Advertisers can scale, consolidate, and optimize their targeting, influence, and conversions with ease.
A dynamic Cost per thousand (CPM) model is used in programmatic advertising. The price of your campaign is automatically adjusted using a dynamic CPM model based on the ad spot and competition. As a result, you'll be able to bid at the greatest possible price while staying within your bid restriction.
Advertisers in a traditional CPM model, on the other hand, pay the same price per thousand impressions regardless of demand.
To help you understand programmatic advertising better, below are a few features:
- The purchasing procedure is fully automated.
- A dynamic CPM model is used to determine pricing.
- Instead of bidding on clicks, advertisers bid on impressions.
- Supply is not guaranteed, and pricing is influenced by competition.
Amazon DSP
Coming to Amazon DSP, it is one of the most well-organized premium advertising solutions available. The Demand-Side Platform (DSP) is a piece of software that allows you to acquire media from a variety of providers in one place.
If you're unfamiliar with Amazon Advertising and DSP, there are two sides to it:
- Advertising Console - Designed for "Pay Per Click (PPC)" campaigns.
- Amazon DSP — Targeted at "Display Ads (Pay per Impressions)."
Marketers use a DSP to set up targeting and bidding rules that analyze ad inventory in real time—millions of ads per second in certain circumstances. When the DSP recognizes a marketer's intended ad impressions, it bids on those ads alongside other marketers who are also looking for that ad impression. The ad impression is awarded to the advertiser with the highest bid, and the DSP serves one of the campaign's specified ads.
The amount of impressions available in real time from programmatic inventory sources is enormous. Remember that web pages can have multiple ad boxes, so each time one loads, multiple ad auctions may be launched. You could have already triggered hundreds of DSP ad auctions today!
What's new with Amazon Advertising these days ?
- Rather than selling ad products through three different advertising services — AMG (Amazon Media Group), AAP (Amazon Advertising Platform), and AMS (Amazon Marketing Services), Amazon has combined everything into a single Amazon Advertising marketplace.
- Amazon Advertising Platform is now known as Amazon DSP (Demand-Side Platform).
- Sponsored Brands is the new name for Headline Search Ads.
- Advertising Console is the new name for the AMS Console.
- Amazon Advertising currently encompasses all ad products, including the Amazon DSP, display ads, video ads, shops, sponsored brands, sponsored items, and Amazon measurement solutions.
How to Optimize Your Marketing Funnel with Amazon DSP
Amazon DSP is built to reach audiences across Amazon sites, apps, and publishing partners such as IMDB, Twitch, and others.
Marketers who are familiar with Amazon's advertising console often wish that Amazon provided targeting choices that included:
- Geography
- Date and Time
- Segmentation capabilities
- Demographics
Despite the fact that sponsored products and brand advertising may not have the same targeting choices, Amazon DSP can provide additional benefits, such as:
- A/B testing creative
- Mobile and desktop specific ads
- Ad frequency per visitor
- Ad placement, above or below
- Include or exclude specific domains
- ZIP code
What's the Difference Between Amazon Sponsored Display and Amazon DSP?
Most advertisers are perplexed by the differences between Amazon DSP and sponsored display advertisements. While both sponsored display and demand-side platforms are owned by Amazon, they have significant differences.
Sponsored display is a self-service advertising platform, whereas Amazon DSP is an advertising product that allows you to buy programmatic ads, including display ads, but not exclusively.
Amazon DSP uses a dynamic CPM approach, while CPC is used to charge for Amazon sponsored ads.
Amazon DSP's Benefits
When utilizing Amazon DSP, the functionalities listed above come in helpful. Here are a few examples of what you can do with Amazon DSP.
Precise device-to-device targeting
On mobile and desktop, Amazon DSP advertising appear as display adverts on websites. On iOS, Android, and the Fire Tablet, mobile app advertisements and banner display ads are available. Mobile intermission ads appear for a limited time inside mobile apps at natural transition points. By pressing the "close" button in the upper right-hand corner, the user can dismiss them.
Amazon only shows video ads on Amazon-owned properties like Fire TV, which provide a "brand-safe environment."
Advanced audiences
Because there are so many ad impressions available, programmatic practitioners don't have to worry about reach or scale—all it's about building the finest rules-based campaigns to ensure that only the most valuable ad impressions are purchased. Given the potentially billions of ad impressions accessible every hour, this can be quite tough.
While marketers can target ads to users based on their geolocation, devices they use, and other common audience attributes with just about any DSP, Amazon's rich product research, browse, and purchase data are incredibly powerful signals for DSP targeting—and this dataset is only available through the Amazon DSP.
Brands can target consumers who have searched, seen, or purchased specific products on Amazon, but Amazon DSP can also use this data to better understand each Amazon user's interests, demographics, and in-market preferences. It also builds audience groups for brands by using its massive consumer footprint across Prime Video and other owned sites and applications.
Unique Supply
"Unique supply" on Amazon refers to impressions that advertisers can earn through the DSP that aren't available through other DSPs. Amazon-owned and operated pages like as Audible, Buy Office Mojo, Goodreads, IMDb, ShopBop, Twitch.tv, Amazon app, and Zappos offer this unique Amazon inventory. There's also inventory from third-party exchanges, Amazon Publisher Services, and specialized marketplaces, all of which can help advertisers reach Amazon customers wherever they consume content.
Because advertisements reach buyers across numerous platforms, Amazon DSP users may create cross-device campaigns, which is critical given the pandemic's increased reliance on mobile.
Brand Protection
For today's businesses, brand safety is a top priority. Because so many internet advertising are provided by automation, businesses may be positioned near content that isn't necessarily the type of environment it would choose manually. Remember that every second, millions—sometimes tens of millions—of programmatic ad impressions are served! Issues are bound to arise at that level of speed.
Users of Amazon DSP can anticipate the highest quality standards and brand safety, since DSP monitors everything from real-time bids to site reviews for brand safety, traffic quality, third-party supply quality, and viewability using both its own and third-party solutions.
Targeting that changes over time
In today's world, using data to identify where an ad should appear is a valuable tool. This is a fantastic strategy. It will assist you in swiftly identifying changes in the landscape so that you can adjust your plan accordingly. You can use it to reposition your advertisements, reroute your creative spending, or reposition your domain ads to reach customers who are interested in your product. This is a prospective but adaptable DSP benefit.
Campaigns that have been optimized
Advertisers can more easily optimize their campaigns with Amazon DSP, either manually or automatically, to fulfill certain goals. Automatic optimizations alter bids so that advertisements are delivered on the best sites with the best formats, and budgets are dynamically updated based on campaign goals. The tool also compares every impression to a pre-determined target, using up to 500,000 predictors based on Amazon consumers' purchase habits.
Advertisers can also manually alter many components of a campaign, including budgets, supply, audiences, bids, and frequency caps, using Amazon DSP. Advertisers have a number of creative options, including traditional photos, video, third-party, and display advertisements with e-commerce creative.
Retargeting
Gaining new clients, as well as sustaining a current audience, is critical to a company's success. Retaining existing consumers, on the other hand, is a more cost-effective way to spend ad dollars than attracting new ones.
You can raise brand recognition by teaching your customers about your items using Amazon DSP. You can, however, retarget potential clients who have already purchased or engaged with your product or similar products in the category.
In a nutshell, you may utilize Amazon DSP for:
Top-of-the-funnel conversion – Increase brand awareness and visibility.Mid-conversion funnel – Increase consideration of your product over a competitorLow-conversion funnel — Re-engage and retarget shoppers to increase the likelihood of a transaction.
Here are some examples of what you can accomplish with Amazon DSP retargeting:
- Audiences who have shown specific habits in the last 30 days, such as browsing similar products or products in a category.
- Audiences who exhibited specific search and purchasing habits associated with a shared way of life. Veganism, for example.
- Audiences who were on the verge of purchasing your or a competitor's product, i.e., audiences who looked for, saw, or added your or a competitor's product to their cart.
- Audience Lookalikes are people who shop in similar ways to your consumers or your competitors' customers.
- Audiences who expressed interest in your offering by looking at similar products on other websites.
- An audience created by a brand utilizing data from their website, data from a CRM database, or a hashed email list.
For all of these reasons, Amazon DSP may be an excellent choice for you.
Conclusion
Amazon DSP combines Amazon's vast consumer data with highly effective ad targeting methods to drive purchases and increase sales volume while also giving you greater visibility and attention.
Unlike Amazon Ad Console, which is confined to Amazon platform users, Amazon DSP attracts new customers, retargets them, and creates brand recall to get people to remember you without you having to do anything. All you have to do is upload your ad material, and Amazon will take care of the rest.
https://www.aihello.com/resources/blog/what-are-the-benefits-of-using-amazon-dsp-ads/