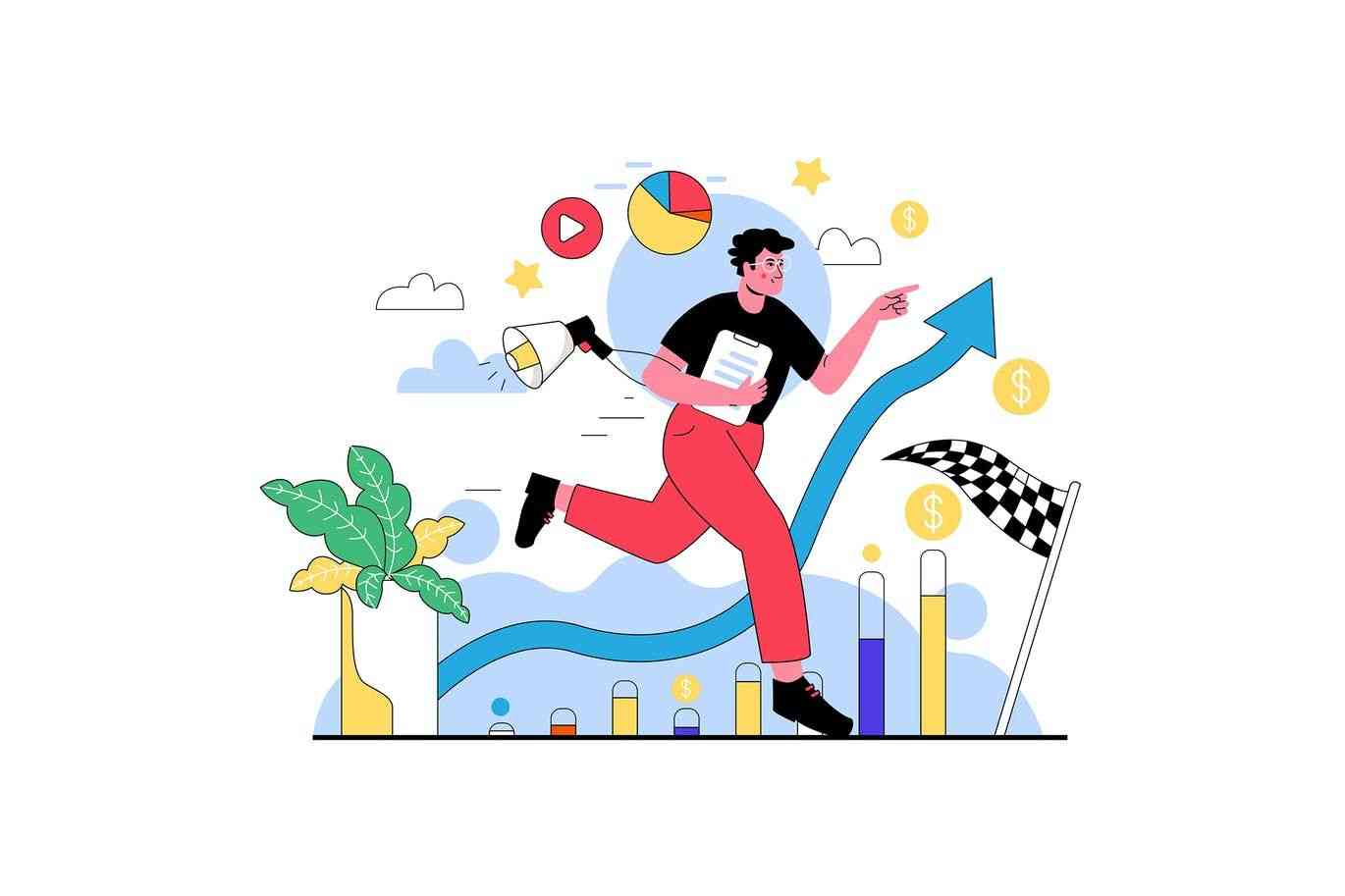 Amazon is the most popular online shopping destination in the United States. How can you assist your Amazon product listing pages to get to the top of the marketplace's 353 million product listings?
The answer is simple, do what amazon wants. And what Amazon desires is evident in the new scheme they have announced.
What is Amazon's New Scheme?
In a new Brand Referral Bonus scheme, Amazon now explicitly rewards sellers for sending traffic to Amazon product listings from external sources.
Brands can receive a bonus from non-Amazon marketing activities and increase their advertising efficiency through the Brand Referral Bonus programme.
To put it another way, Amazon is rewarding off-Amazon traffic to steal sales from competitors like Shopify and Walmart. As a result, Amazon wants to compensate you if you drive traffic to Amazon from another source (such as Google).
Why should you use external traffic to drive visitors to your Amazon listings?
As Amazon's competition grows and sponsored ad costs to rise, you'll need to think outside the box to find new ways to bring qualified traffic to your listings. While Amazon's internal advertising options for sellers and brands are quite powerful, you may be missing out on sales if you don't advertise outside of Amazon.
Your Amazon listings must be already well optimised and have a good conversion rate before you start generating traffic to them. You'll be wasting your time and, more significantly, your money if you don't. Even the most effective off-Amazon marketing won't persuade most people to buy a product with low-quality listing photographs, a bare-bones description, and few or no user reviews.
The following elements will be present in a completely optimised listing:
- Images of excellent quality
- Copy that is optimised for search engines
- Bulleted lists of facts and detailed product descriptions
- A+ content on Amazon (if applicable)
- 20–30 reviews with a minimum of a 4-star rating
If your listing is brand new or you don't yet have high-quality photographs, hold off on sending external traffic until you've had a chance to take some.
One of the biggest advantages of generating external traffic to Amazon rather than depending solely on its three PPC ad kinds is that you may drive people to your Amazon storefront, which is devoid of competitor listings and adverts.
How Will Amazon Reward Me for Running a Traffic Campaign Outside of Amazon?
You'll get rewarded in one of two ways by Amazon:
1. By crediting you 10% of sales resulting from external traffic efforts.
2. By increasing your product listings' organic reach
Amazon takes a share of every item sold on its platform, as every seller knows. This cost might range from as little as 6% to as much as 45%. As a result, the bonus might be viewed as a reduction in that cut.
If you're interested, multiply your qualifying sales by the minimum bonus rate in the respective product category to get an estimate of your approximate bonus.
How to Grow Your Amazon Business Using Google Ads:
When looking for product information online before making a purchase, customers still turn to Google. In a Kenshoo poll, 85% of respondents said they utilised Google. According to a 2018 survey by Statista, Google accounted for 63.2% of all online searches in the United States. In the United States, Google was used in 93% of smartphone searches!
In terms of product search, Amazon is quickly catching up to Google. And, on average, Amazon searches are further along in the purchasing process than Google searchers, who are still in the research phase.
As an Amazon seller, though, Google provides you with an extra means of getting your products and brand in front of more people. It will enhance their chances of purchasing if they see you on Amazon and Google. You can also get in front of them on Google if they aren't seeing you on Amazon.
What's the Difference Between Google Search Ads and Amazon Ads?
On Google, most (if not all) potential buyers are in the awareness/interest stage near the top of the sales funnel. Amazon customers, on the other hand, are usually further down the funnel, completing last comparisons before making a buy.
Both platforms work on the same basic concepts (Pay-Per-Click advertising with second-price bid auctions), but Amazon makes it much easier and faster to set up campaigns than Google. Among the more significant distinctions are:
- In most circumstances, wide match type on Google will merely burn up your cash - it's advisable to utilise broad modifiers instead. 
- Keywords you include in your Google advertisements are competing against each other.
- When compared to Amazon Advertising, the GSA system is more powerful, offering a wide range of campaign/ad/targeting choices, allowing you to experiment with various campaign setups. GSA also provides you with a large amount of data (reports) to evaluate in order to make more educated estimates about what is and isn't working (Google Analytics).
How Do I Create My First Google Ads Campaign?
If you're unfamiliar with Google's advertising network, the first time you use it may be confusing and unpleasant. The good news is that there are a plethora of materials available to assist you, like step-by-step instructions on external traffic and more.
Here are the steps to help you create your first Google Ads campaign:
Step 1: Sign up for a Google account.
Step 2: Fill up your payment information.
Step 3: Create an exact match campaign on Google using the keyword research you did for Amazon PPC. To target, make a list of 15-50 highly relevant terms.
Step 4: Send the campaign to the main Amazon URL for your product. Create a custom link only if you want to add a layer of uncertainty.
Step 5: Set a daily budget of $5-50. (in concert with Amazon PPC and the other things that are important to do and scale rank on Amazon).
Step 6: Get started on your P.S. (Here's what we mean by keyword research and the other things you'll need to rank well on Amazon.)
Developing a Google Search Advertising Strategy
To begin, it's crucial to emphasise that the vast majority of eCommerce firms, in my opinion, would be better served to start with Amazon and their own website. This is due to the fact that each new funnel necessitates larger marketing spend to make the effort worthwhile, and in most cases, it's better to consolidate these two sales channels before moving on to GSA.
Setting up a GA account is easy once you've established a solid foundation with Amazon and your own website - all you need is your credit card and email address.
The products you choose for GSA will be determined by the specifics of your objectives.
- Do you want to increase sales for a single product or for your entire catalogue?
- Do you want to direct traffic to your Amazon Storefront or to specific product listings?
- Is it necessary to sell the advertised products at full price, or are you offering a limited-time discount to boost the odds of conversion from paid ads?
In most cases, the 80/20 rule dictates that you start with your best-selling item(s) and drive traffic to product pages. If your storefront has a good conversion rate, you should explore creating additional campaigns using the Storefront as a landing page and experimenting to find which path to conversion is the most effective.
The budget should be at least $50 per day, and you should analyse the campaigns' performance on a daily basis to ensure that you don't go over budget.
Using Both Email Marketing and Retargeting Through Google Ads
Amazon provides you with the resources to reach millions of "Primed" buyers. When someone buys your product on Amazon, however, they are not your customer. It's an Amazon client. Contacting customers for marketing purposes is against Amazon's Terms of Service, therefore you cannot gather email addresses. You can obtain client contact information if you use Google Ads wisely.
Between the Google Ad and your Amazon listing, direct traffic to a squeeze page. You can utilise a variety of landing page tools. When someone comes to your page from a Google Ad, the money will be wasted. Some general-purpose (like ClickFunnels or Leadpages) and others developed just for Amazon (LandingCube).convert visitors into customers, but when someone arrives at your page from a Google Ad, the money will be wasted.
How long does it usually take to get started with Google Search Ads?
If you're new to GSA, you should plan on spending at least three months on the platform. Anything less will not provide you with sufficient information regarding GSA's efficacy as a client acquisition channel.
Maybe you've already set up campaigns on your GSA account. If this is the case, conduct a thorough examination of what worked the first time around; you may be able to reuse elements of your previous strategy. Keep in mind customer behaviour, any current promotions, the seasonality of your product, and any other factors that may have influenced performance in the past vs. currently.
During the first month, keep a tight eye on your campaigns (keyword performance, budgets, and so on) to make sure everything is running smoothly. If the results are good, reduce the frequency to a couple of times per week after the first two weeks.
You may decide to launch many campaigns at the start, depending on your budget and overall strategy. To save time and money, test the waters by starting the absolute minimum of campaigns for your greatest sellers, then adding additional extensions, keywords, and creating campaigns for other products each week.
Keyword optimization should be done on a weekly basis, and non-profitable terms should be delayed. Of course, depending on your aims, the term "unprofitable" can indicate many things, but in general, those are keywords that don't convert or have an unacceptably low ROI.
What is the ideal number of Google Ads campaigns to run?
Launch Campaign 
Strategy: A product's first 30-60 days are critical and non-negotiable. You've been running a Google ad campaign for at least 60 days if you're launching a product. It is not necessary to perform extensive optimization.
Budget: You must invest; whether it's a heavy push on Amazon PPC or using an influencer, there will be an input cost, and the final aim is to boost organic rank, which enables an ROI.
Campaigns Should be Relaunched or Reranked.
Strategy: At some point during a product's existence, it's necessary to breathe new life into it. Because we treat it like a launch, yet the product has been active for a while, we term it a relaunch/re-rank campaign.
The advantage of this type of campaign is that you have access to data and a better understanding of what works and what doesn't. Use the results of your Amazon PPC ads to help you with these campaigns as well.
Budget: The same as for the launch. As already said.
Maintenance Campaigns
Strategy: These are low-cost initiatives that drip-feed external visitors to your listing over time, with a greater emphasis on ROI. You'll employ a normal PPC strategy and optimise bids for a maintenance campaign.
Budget: We recommend a daily budget of $5-10. What ACOS are you willing to pay to maintain or increase your rank?
End Goal:
The goal of sending external tag signals and tags to product listing pages so Amazon will notice and reward your product's organic rank is not a conversion or direct ROI, but rather to send external tag signals and tags to product listing pages so Amazon will notice and reward your product's organic rank.
Send traffic to your Amazon listing with Google Ads.
Your Amazon product listing pages receive external tag signals from external traffic initiatives.
After a year or two, when you can utilise a relaunch campaign to inject some external attribution into your playbook and observe the positive impact over a 2-3 week period as your organic rank climbs across the board for everything your listing is optimised for, the impact is simpler to see.
There are no assurances; just trend analysis is available.
Conclusion:
Because buyers are often closer to the top of the sales funnel when they see Google Search advertisements, the GSA budget is significantly lower than Amazon Advertising, and the conversion rate is not as high. We expect the GSA budget to gradually expand over time until it reaches a threshold of diminishing returns. So far, GSA management efforts have assisted this client in strengthening their Amazon positioning by profitably recruiting new consumers via Google.
In conclusion, you've learned everything there is to know about Amazon's Brand Referral Bonus programme, including how they reward you, why they prefer paid external traffic to organic external traffic, how to set up your Google Ads campaign, when to run it, how many to run, and what the end goal of these campaigns is.
https://www.aihello.com/resources/blog/boost-amazon-sales-using-google-ads/